2019 Graduation Ceremony
The 26th Graduation Ceremony of Shenzhou Open University of TCM (SOU) was held at SOU main campus in Amsterdam on 4 October 2019. A total of 112 graduates were awarded the graduation diploma.
The ceremony was attended by Mr. Marcus Wijnalda, former president of the Dutch Association of Traditional Chinese Medicine ZHONG, Ms. Wilma van Maarschalkerweerd, secretary of the board of the Dutch Acupuncture Association, Mr. Zhilin Dong, SOU president, as well as teachers, graduates and their families and friends.
Welcome by Dr. Jidong Wu
The ceremony was presided over by Dr. Jidong Wu who congratulated Mr. Zhilin Dong for his 30-year endeavour and achievement in building SOU into a leading TCM education institution in Europe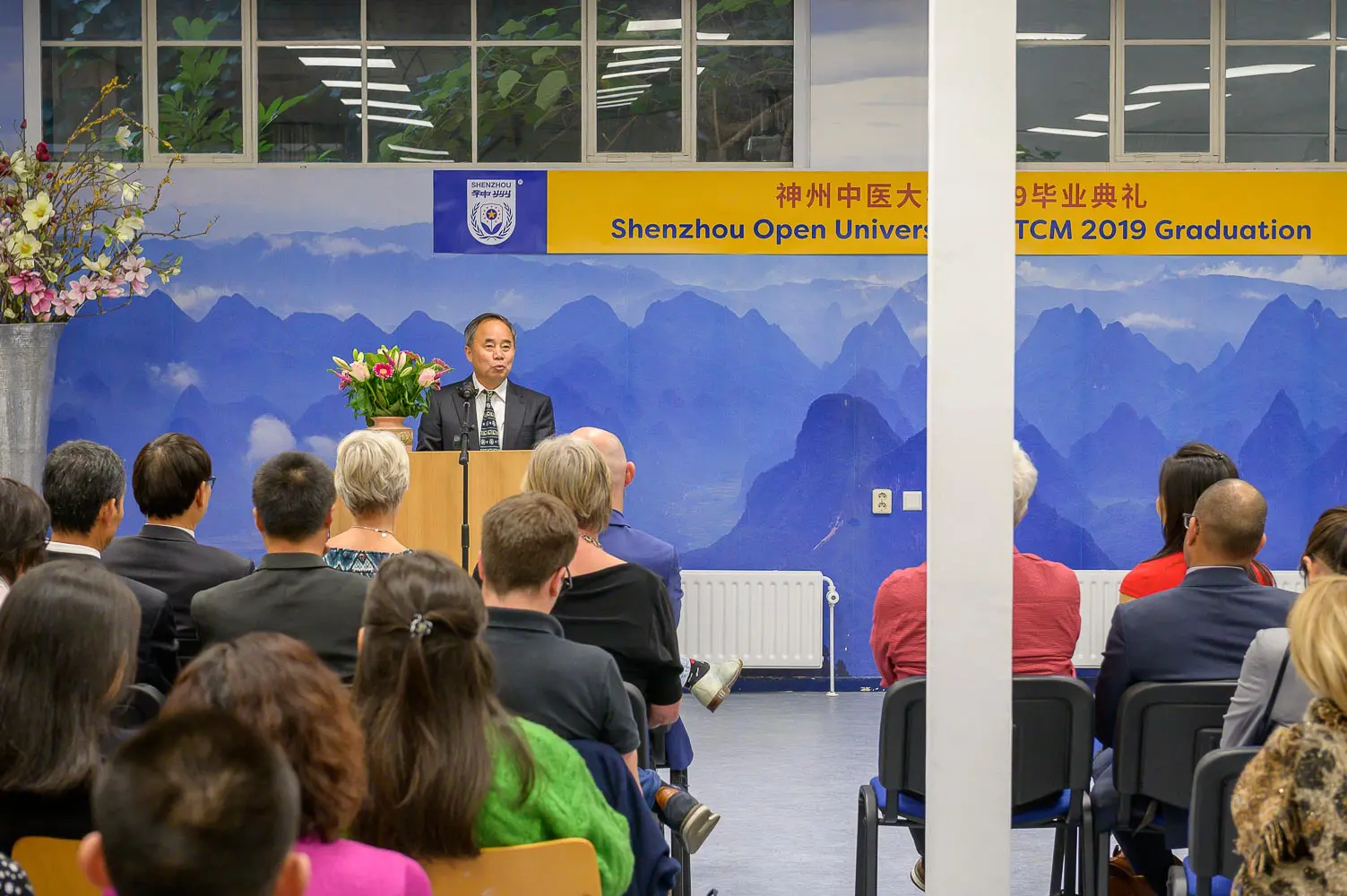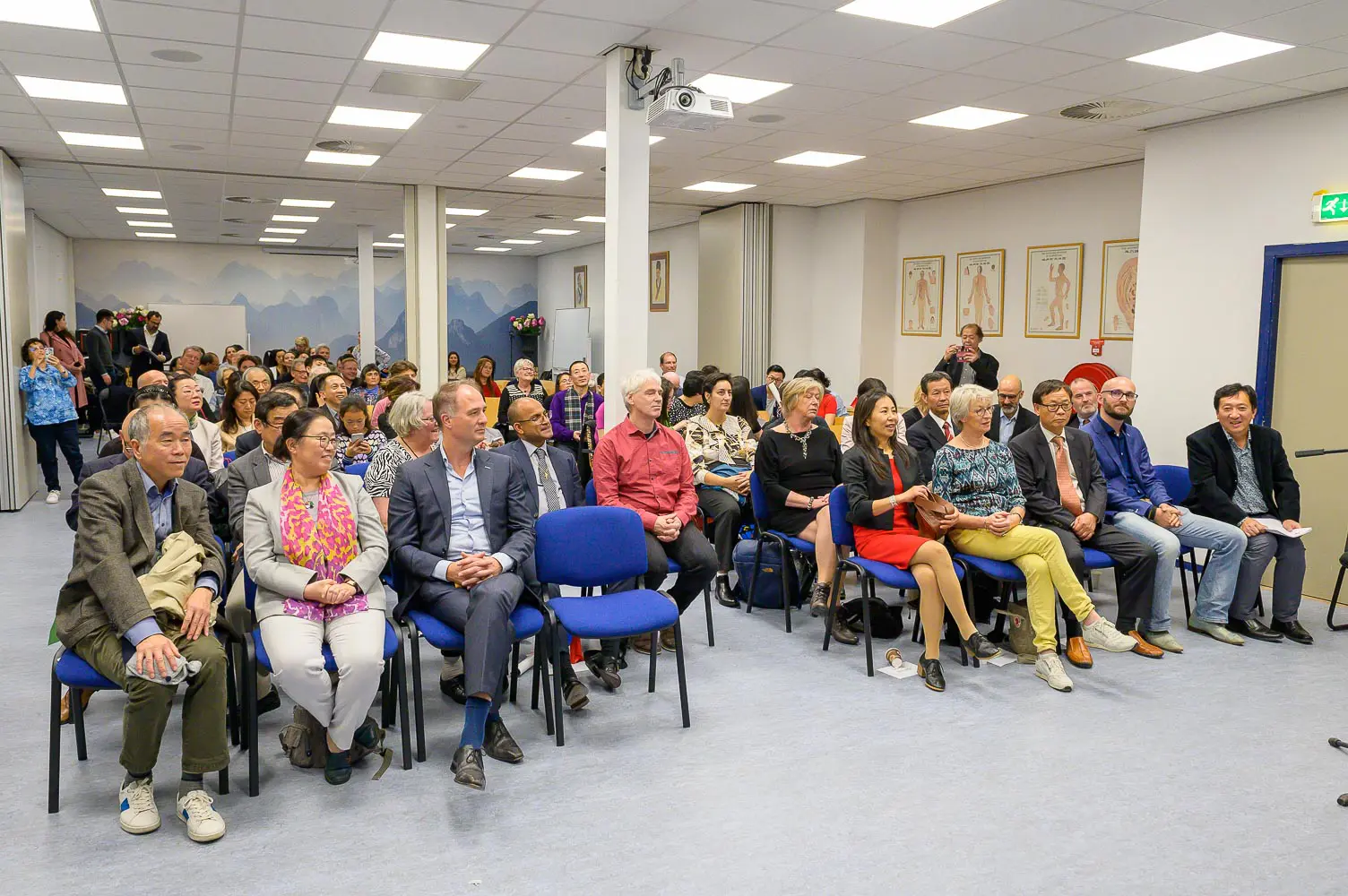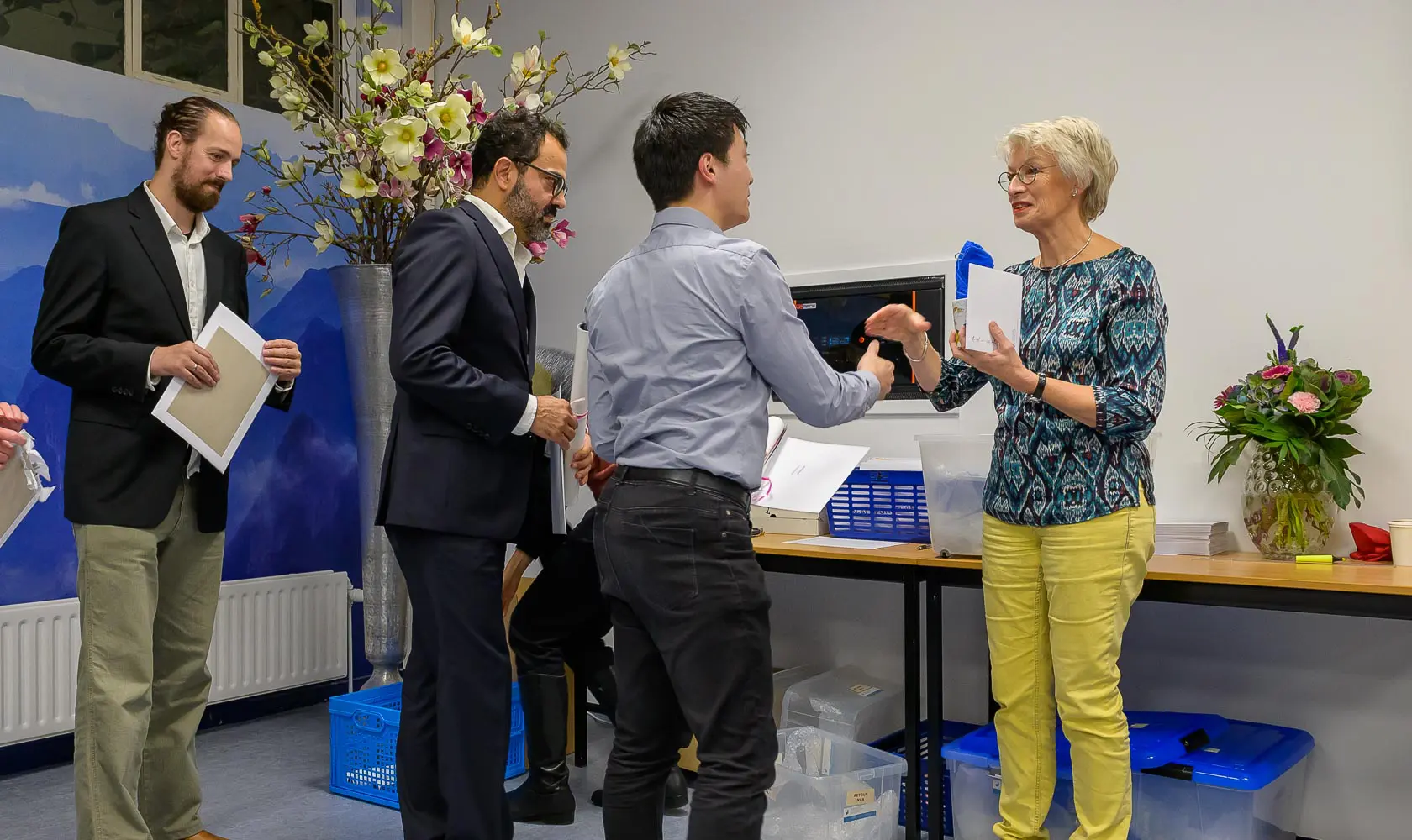 Students receiving presents from the Dutch Acupuncture Association.
SOU adopted and modified authentic TCM training programmes from Chinese TCM universities to fit the needs of European TCM education, and created a practical overseas TCM education model and programmes that are followed by other TCM schools in Europe. Drawing on expertise of more than 30 TCM experts, SOU offers courses in Chinese medicine, Chinese herbal medicine, acupuncture, Tuina and western medicine foundations. These courses are accredited by various Dutch and European TCM associations.
New campuses
SOU has now further expanded and opened new campuses in Austria, Germany and Greece, increasing the total number of students to more than 500. Several thousand students have graduated from SOU so far. In 2017, SOU became the only TCM education institution accredited by the World Federation of Acupuncture Societies as the International TCM Training Centre.
In 2018, SOU also started to cooperate with Nanjing University of TCM to run Master's and PhD degree courses in TCM.
Dr. Dan Tan
Dean of SOU
Dr. Dan Tan, the newly appointed Dean of SOU, congratulated and encouraged graduates to follow their chosen path in a rapidly changing world and to continuously update their professional knowledge.
SOU will forever be the platform of continuing professional development (CPD) for all graduates, helping to realise their full potential and to become highly skilled TCM professionals.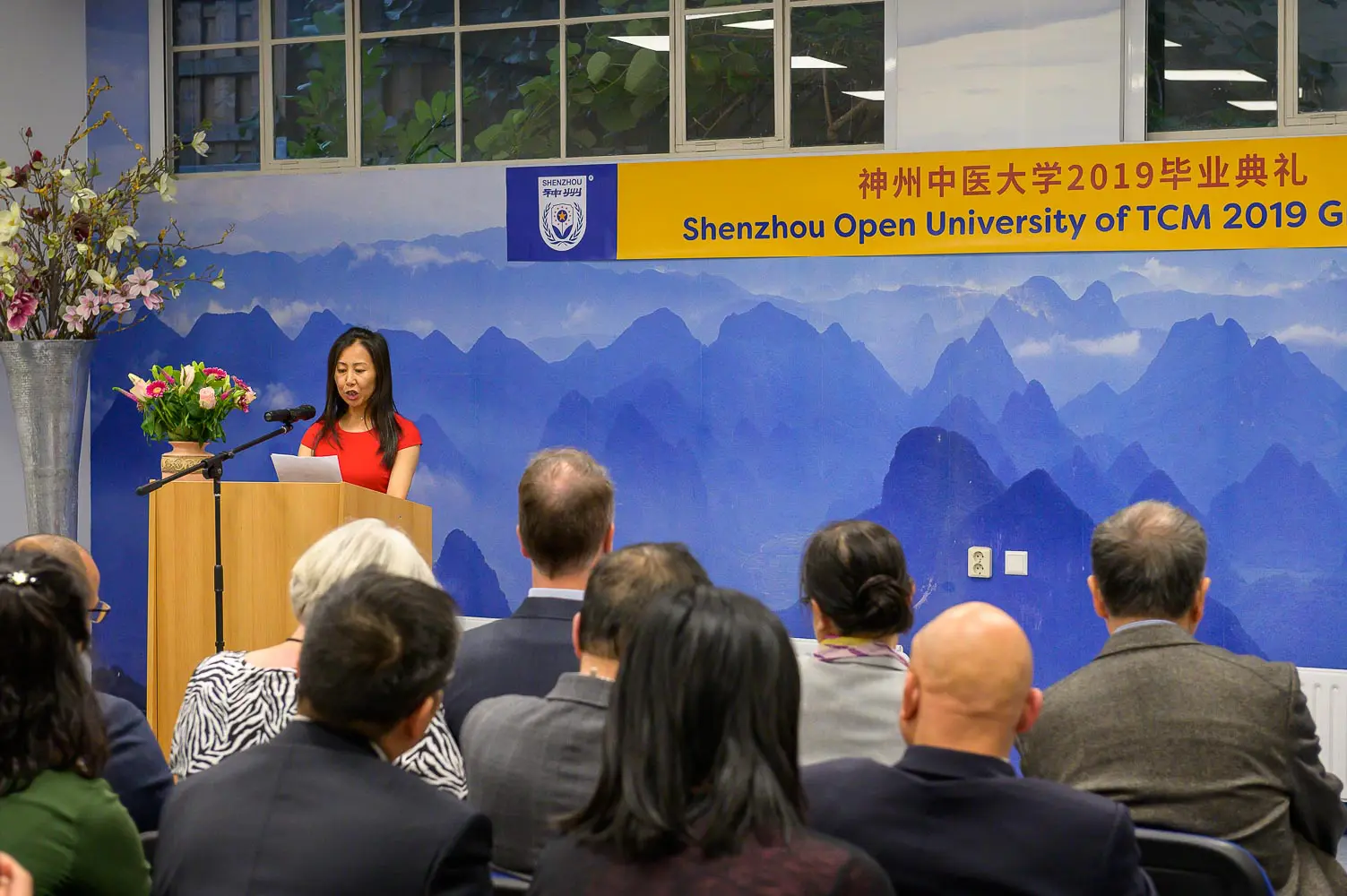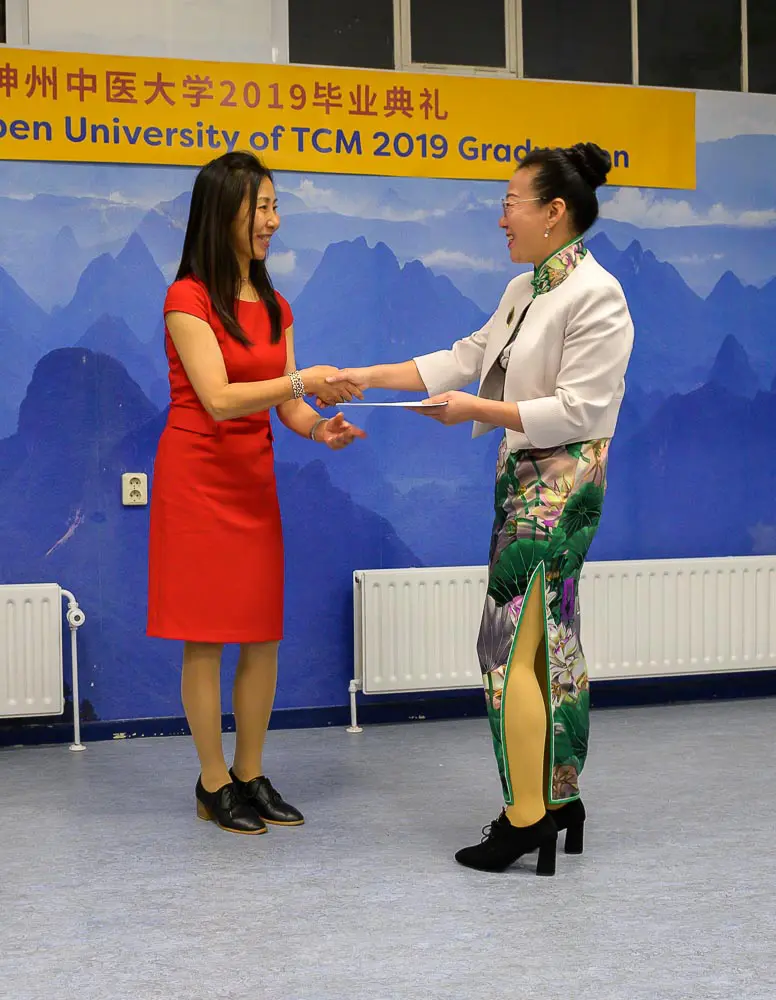 "Today is a special and memorable day for everyone. As a new member of the Shenzhou Family, I am honoured to be standing in front of you this evening."
A very good evening to our Distinguished Guests, President Dong, colleagues and, above all, a very warm welcome and congratulations to our Graduates!
Today is a special and memorable day for everyone. As a new member of the Shenzhou Family, I am honoured to be standing in front of you this evening. On behalf of Shenzhou Open University, President Dong and my colleagues, I extend my deepest congratulations to our graduates. I genuinely believe that behind your achievements, it is your hard work, your dedication and your commitment that sees you graduating today.
You have all worked extremely hard during your studies and you should be very proud of your achievements. But you have had help along the way: from your family, friends, classmates and – please don't forget – your Shenzhou teachers and coordinators. They have been tireless in their efforts to successfully guide and support you to reach this point.
We have many hundreds of graduates that have passed through our doors over the years. We hope that Shenzhou has helped equip you with the tools, skills, knowledge and insight you need to successfully follow your chosen path in a rapidly changing world – perhaps even to positively influence the world in some small way. We like to think of you all as being members of the Shenzhou family.
I am told the Dutch language is famous for having many peculiar sayings and proverbs. Perhaps this one is appropriate for our graduates today:
Iets onder de knie hebben
It literally means "to have something under your knee" – in other words, to master and have in-depth knowledge of a subject. That is what you have managed to achieve with your hard work.
The mission of Shenzhou Open University is to educate students according to the highest professional standards and to prepare you for the challenges that you will no doubt face in your chosen field. The provision of healthcare is evolving with new research, new treatments, the development of artificial intelligence and other major innovations. Therefore, it is crucial, as healthcare professionals, that we constantly update and broaden our knowledge. Although we say "goodbye" to you today, we hope to see many of you again in the future as Shenzhou continues to develop pioneering, high-quality education to improve academic and clinical skills for students at all stages of their careers. Shenzhou will always be here for you to provide a platform for training and continuing professional development (CPD). We want to help you maximise your potential and fulfil your goals as highly skilled, ethical, reflective and competent Chinese medicine practitioners.
The success of Shenzhou is inseparable from the success of our graduates. We live in unpredictable times in terms of politics, climate, economics and many more aspects – all these have an impact on people's physical and emotional health. With your skills and enthusiasm you can be at the forefront of meeting these challenges and helping the people and societies in which you live maintain good health and wellbeing.
Confucius said "Choose a job you love, and you will never have to work a day in your life". That is very good advice and I believe everyone here has chosen that path. It does not mean that you will not work hard – but you will enjoy the work and it will be rewarding.
But before you take the next step in your life and career, take some time this evening to enjoy and celebrate what you have achieved at Shenzhou. Celebrate with friends, family, classmates, teachers and coordinators. You have earned it – and I'm sure the world can wait a few more hours before you go off to save it!
Finally, allow me once again on behalf of President Dong and all the Shenzhou teachers and coordinators to express our most sincere good wishes to you. We hope you will continue to succeed, innovate, flourish and thrive in the field of Chinese medicine!
你是我的骄傲
nǐ shì wǒ de jiāo 'ào
I am proud of you!
Speeces by teachers and the student
Teachers and the student representatives also expressed heartfelt congratulations and best wishes to SOU and all graduates.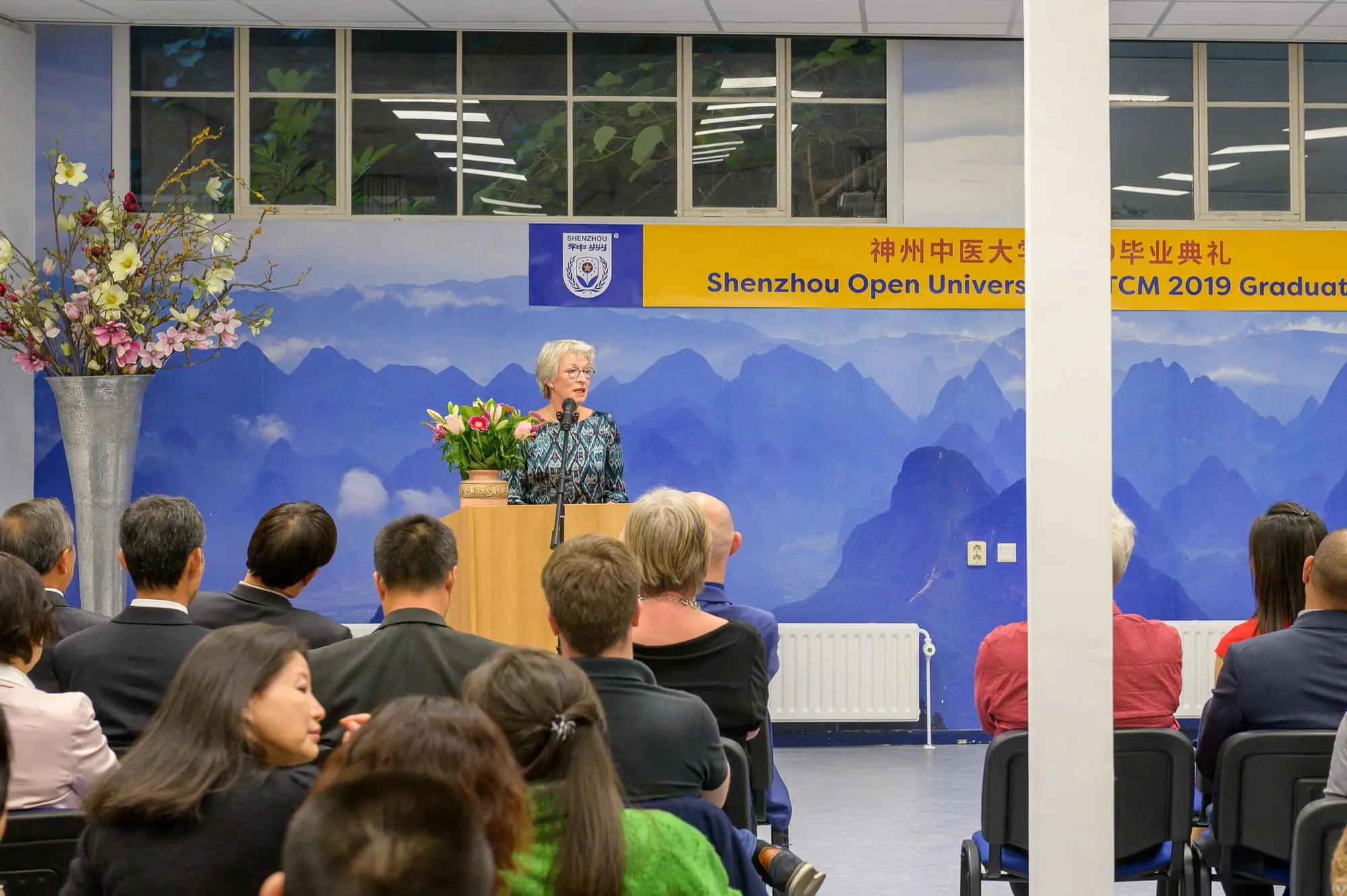 Ms. Wilma van Maarschalkerweerd
Secretary of the board of the Dutch Acupuncture Association
Mr. Marcus Wijnalda
Former president of the Dutch Association of Traditional Chinese Medicine
Dear teachers, students and guests I would like to congratulate you all, the TCM graduates with your achievements. The path in TCM has just begun for you. I am proud to say that Shenzhou and Zhong have been working hand in hand over the years and I am sure that we will be working for many years ahead. I know for a fact that most TCM graduates in Shenzhou join our TCM association which is the one of the largest TCM association in the Netherlands. With that said, I would like to welcome you all to join our association and offer all citizens a better choice in health care.  It all starts with you. Thank you and enjoy your evening.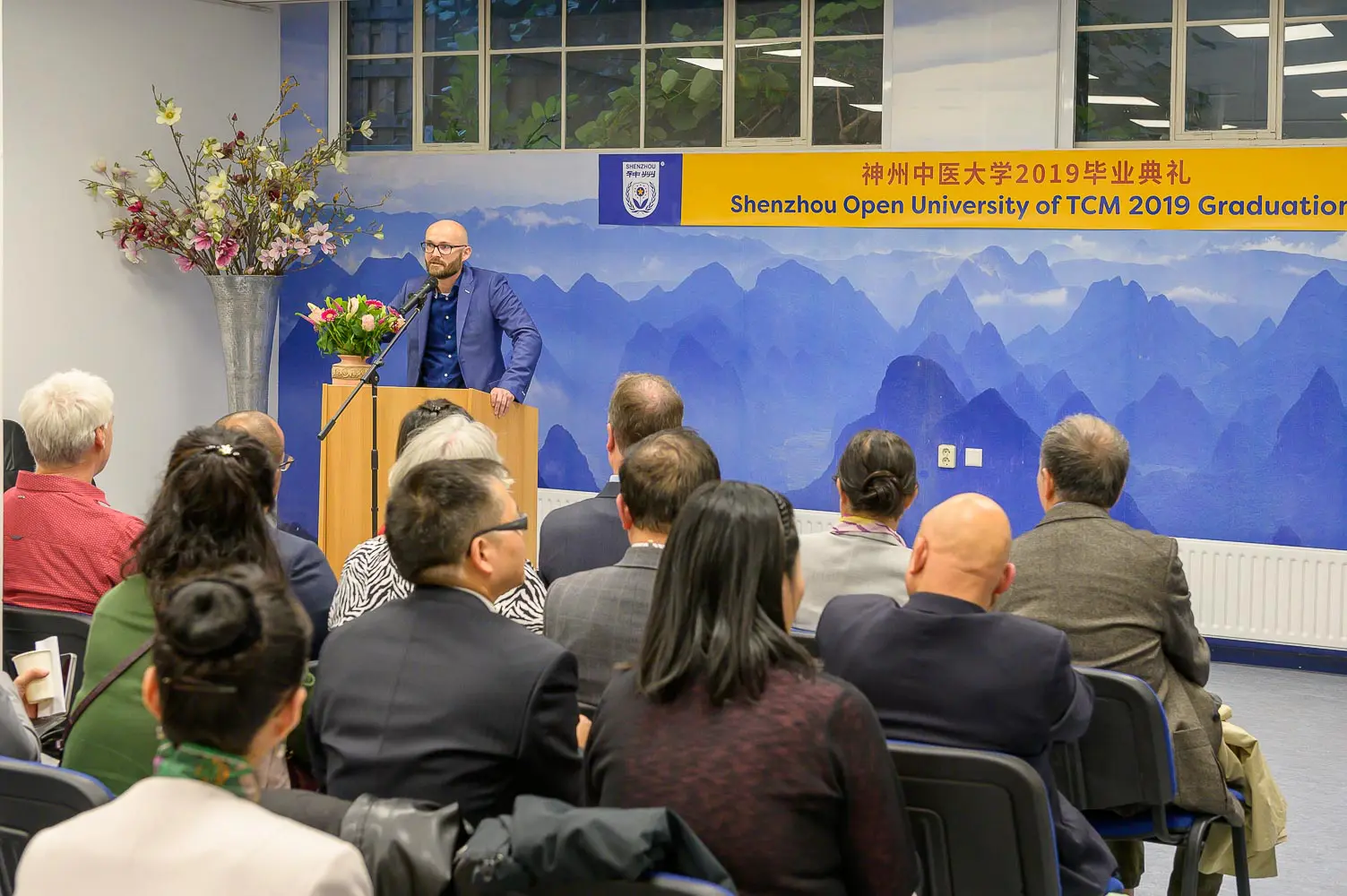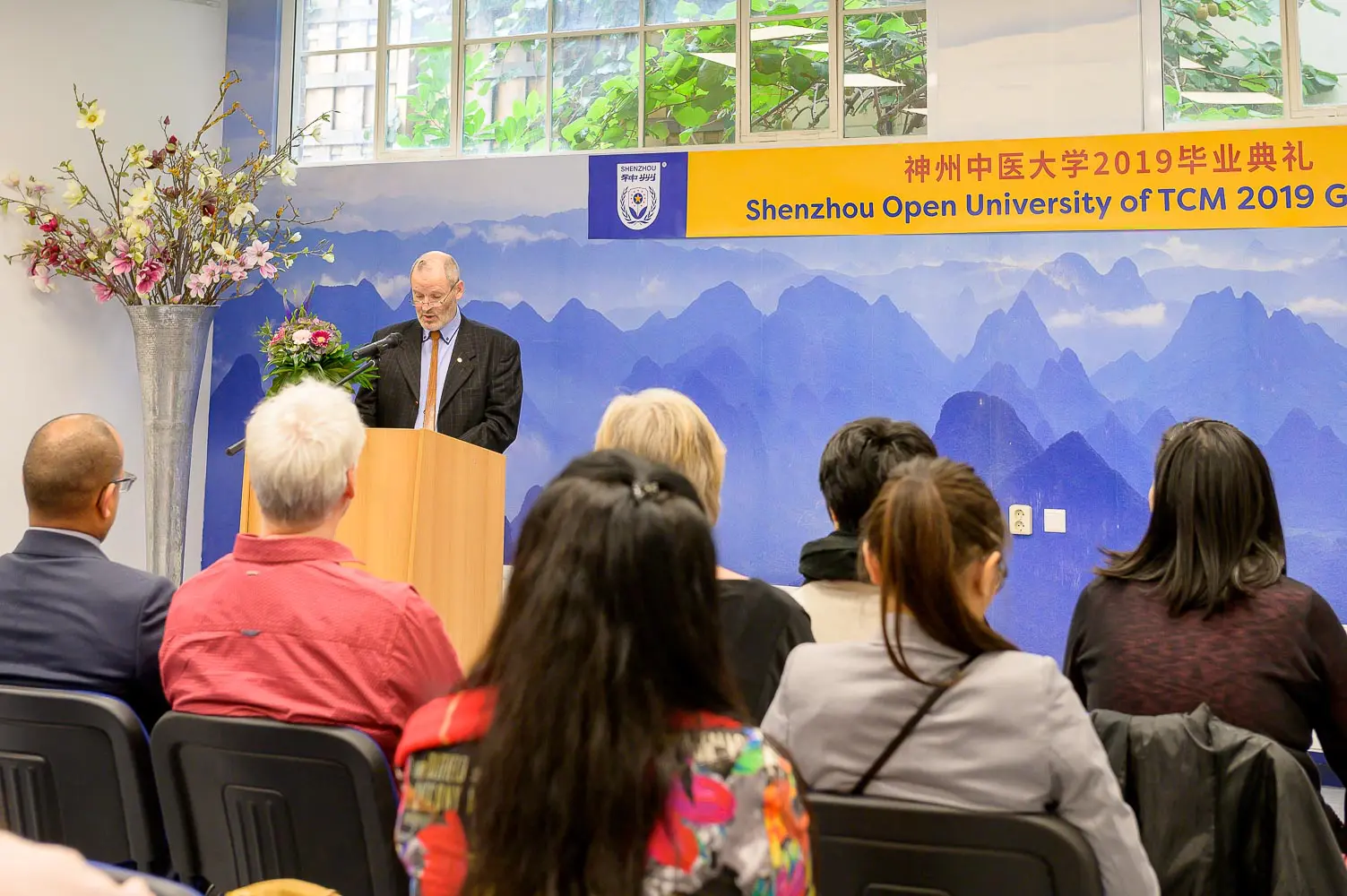 Dr. Toine Korthout
Teacher Western Medicine
Good afternoon to you all !
What a diversity of languages, of nationalities
and even the more a diversity of students;
all of that in just 1 school: SOU,
and at 1 course Principles of Western Medicine!
Students from different paths met in this WM course:
on their way to be a practitioner in TCM, acupuncture, tuina, etc,
and some even already are therapist
with the desire to meet with Dutch health care system requirements.
And that is exactly one of the goals of this course.
Xià háo,
Dobryj dénj,
Shalom,
Buon pomeriggio,
Namaskár,
Boa tarde,
Anyèongsèyó,
Labdien,
Dobry djeñ
Buenas tardes,
Dobré odpoledne,
Goedemiddag,
Good afternoon to you all !
What a diversity of languages, of nationalities
and even the more a diversity of students;
all of that in just 1 school: SOU,
and at 1 course Principles of Western Medicine!
Students from different paths met in this WM course:
on their way to be a practitioner in TCM, acupuncture, tuina, etc,
and some even already are therapist
with the desire to meet with Dutch health care system requirements.
And that is exactly one of the goals of this course.
Undoubtedly there must have been a lot of personal interest
in knowing what the human body looks like in detail, how it works,
and what can go wrong with health, from natural science perspective.
I'm talking about perspective, and my students know what I mean by that:
I refer to the Tea Pot Story in their set of readers that I wrote.
For those who do not know that story, its essence is as such:
                                      [several glasses, different in colour]
The colour of the glasses that you wear, determine the contrast you see.
Western medicine, TCM, other type of complementary medicine …
they all aim to cure or relieve a Pation Of The World
from her or his suffering.
I think I kept a promise: I loaded you with a lot of study material:
you had to bring together a lot of pieces …
                               [pull the wooden tie to make pieces visible]
You have worked hard to achieve
what will be rewarded today with a well deserved certificate.
More perspectives means more options.
More colours, more grey between white and black.
More sounds to be heard.
You might even miss them
(like my mom, I send you her greetings)
                                               [different sound devices]
But finally an applause for you graduates!
Mr. Zhigang Yang
Teacher Chinese Medicine
Dear Mr.Dong, founder and director of Shenzhou Open University of Traditional Chinese Medicine,
Dear Dr. Tan, our new Academic Dean of Shenzhou Open University, Distinguished guests, parents, teachers, students, Ladies and Gentlemen, Good evening!
‍
It gives me great pleasure to join you here today and to share with you this memorable occasion of Shenzhou Graduation Ceremony.
‍
First of all, on behalf of our Shenzhou teachers, I would like to express my warmest congratulations to our Shenzhou graduates!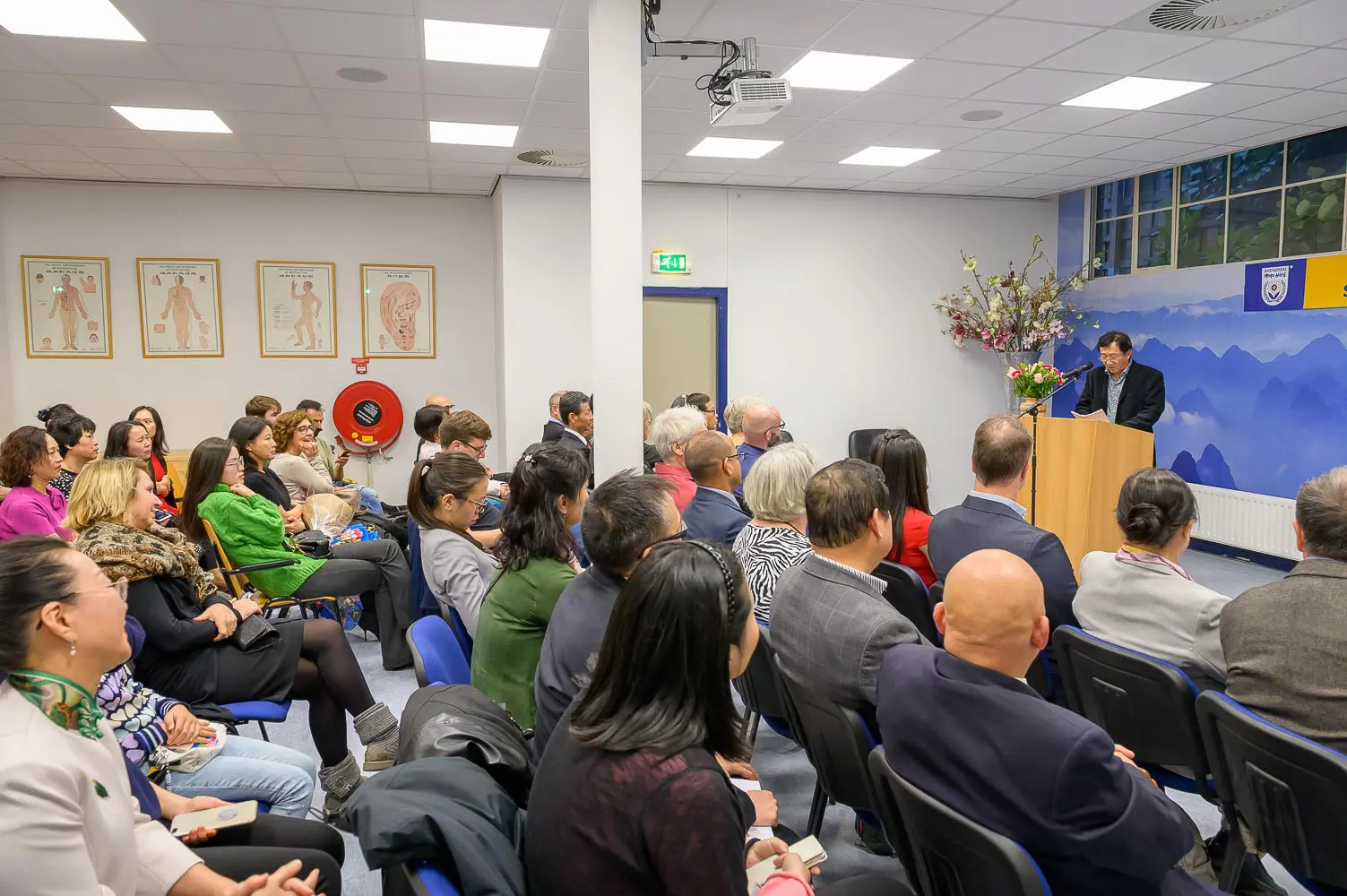 Weldon graduates! Due to your hard work and efforts in the past few years study, finally you get your diploma! Be proud of yourself! 
I believe all of you are now happy to celebrate what you have successfully achieved at this important phase of TCM study, 
The root of the word graduation does not mean "finish" or "fulfil something", but it has more sense of beginning and progress. This is the best interpretation of graduation. 
So we are here not only to celebrate the "completion of TCM study in Shenzhou", but also to cheer the beginning of your further development and to challenge the future difficulties of TCM study and practice. In Chinese we say 学无止境 which means "Life-long learning". 
Above this foundation of TCM knowledge, you will be able to build up life-long TCM learning and practice skills. 
Secondly, our thanks must go to family members of our graduates, for their support and giving opportunities during the study period so that students 
were able to concentrate on the studies and exercises in their learning process. 
Ladies and gentlemen, as you know, traditional Chinese medicine emphasizes the importance of holistic approach and Yin-Yang balance. It is our teacher's hope that all graduates will always keep this principle in mind in their future practice. 
1. Using TCM four diagnostic methods, to check energy balance and find real course of the disorder. Not only treating disease but also to prevent it happen again. There is some sayings: "冬病夏治";"预防为主"→ "Winter diseases should be treated in summer"; "Healthcare should be focused on prevention." 
2. Everybody is unique, energy balance is dynamic, as TCM practitioner in your future work, you need to keep this always in mind: take holistic approach, using TCM Zangfu patterns and meridian differentiations to treat patient and to prevent disorders. 
3. As a good TCM practitioner it needs many years of practice. Only more practice can build up your skills and experiences. Just like in China may people look for a TCM doctor with gray hair because of their healing power base on many years of experiences. 
Every End Has a New Beginning, that means all graduates, today it is also the beginning of life-time TCM study, From the teacher's perspective, we need to prepare for our graduates to come back for the future learning and training, to provide them the opportunities to further develop TCM skills. We are looking forward to that day when you are back to our Shenzhou school! In addition, someday after many years training in Shenzhou you will say: "We are proud of our Shenzhou school." 
Finally, may I wish you every success in your future studies and practices, all of us here wish and believe that our Shenzhou graduates will make great contributions to TCM healthcare in Europe as well as the whole world. Thank you!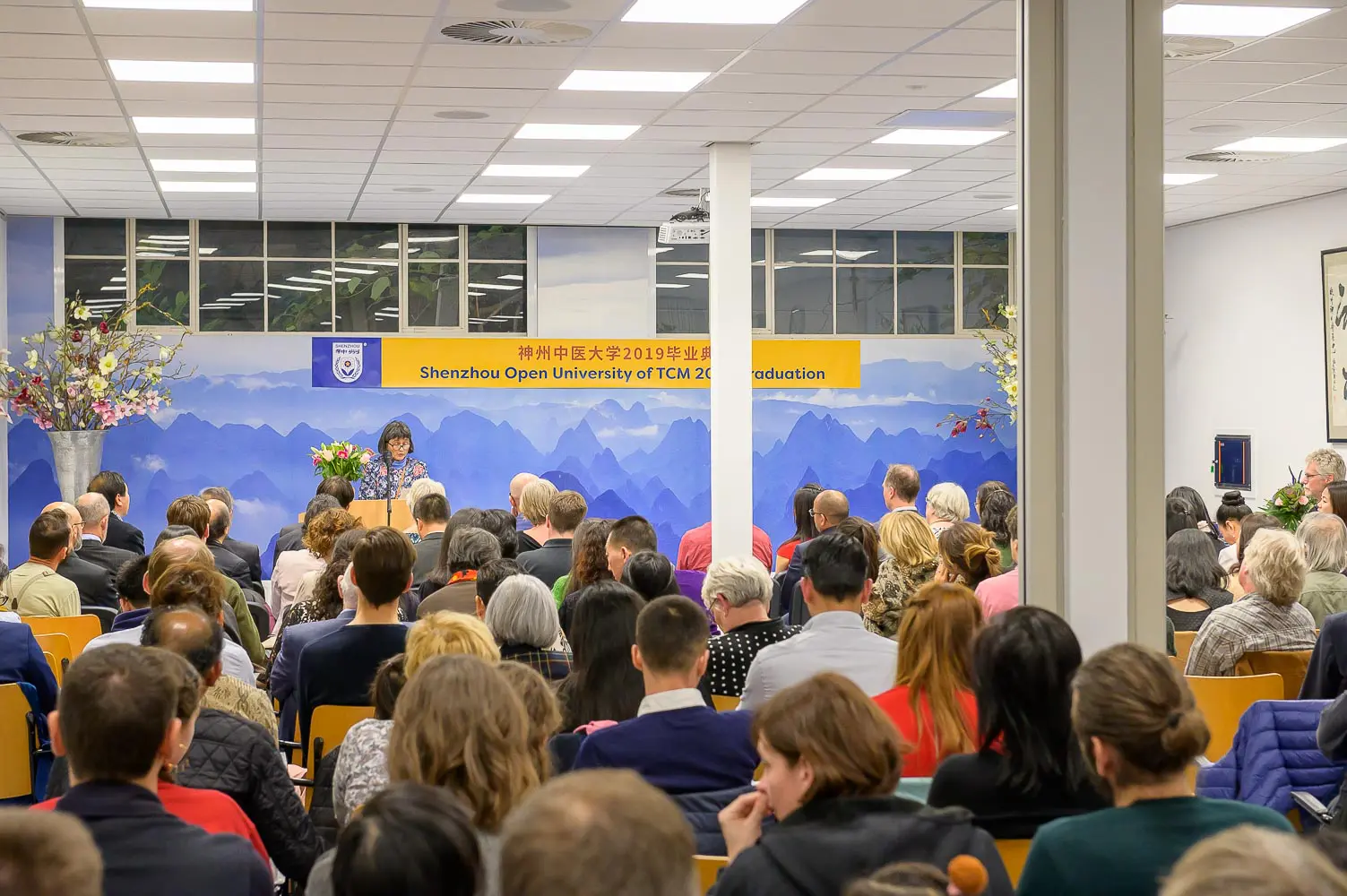 Ms. Carmen O'Dwyer
Student at SOU of TCM
Good afternoon to you all !
Good evening ladies and gentlemen,
It is an honour to give a little speech in this graduation ceremony. Particularly, and I think my classmates and teachers will agree, because of the great pride in successfully completing such a challenging study.
In the foreword of  dr Yifan Yang's book on Chinese Herbal medicines she states, and I quote:
When first embarking on its study, all but the hardiest of students will pale at the sheer quantity of information that has to be committed to memory. Their excitement at first encountering the wonders of this vast body of knowledge, that ultimately form the backbone of treatment, is soon swamped by the dawning realisation of the efforts required to master it.
Yes, that's how we all felt in my class: swamped.
We are the first class which graduates under the new SNRO certification for the school as HBO-level. So, for our class, the challenge of this study alone combined with the following of new guidelines was great, and for that we must be proud we achieved it.
My classmates will most certainly agree with me when I say: "Phew, we've made it."
As a Chinese herbal medicine practitioner, or in general as a practitioner in complementary medicine, it is important to be constantly mindful that our task is to re-educate our clients in restoring their well-being. Our art, and our science is not be understood as the mere application of knowledge to cure symptoms.
In January this year, the local Amsterdam newspaper, Het Parool, published an article Een wandelclubje? Daar gaat de huisarts nieuwe stijl niet over (in English: A walkers' club: GP's new style will not take this on). The article discussed the new guidelines the General Practitioners in the Netherlands, want to propose to the government regarding their tasks. They feel they want to do what they are best at: doctoring – meaning treating disease. They don't want anymore tasks related to lifestyle and prevention. They think that this task can only be part of their practice once the patient is sick.
And there lies out greatest value, where the GP's don't see it as their task.
Our greatest value is in prevention and educating clients on maintaining health. So, we need to become champions in lifestyle and prevention. We need to walk the talk, and practice what we want our clients to do.  By doing so, our clients will feel the consistency of our message and it will awaken in us the courage to talk to our clients, to teach them, to motivate them on the path of prevention. Our personal consistency will awaken the courage in our clients when they receive from us advice which feels confrontational.
With the writing of herbal prescription, we might be misled and forget the real purpose of our therapy. Yes, when clients are out-of-balance in their health, herbal medicine provides the relief and support to re-build the strength. But this is not enough. Prevention and lifestyle is the core of our practice.
As practitioners, we also need to safeguard our diploma. We need to make sure that we are careful and professional in our practices. That our diploma is protected from reputation damage.  
Further to this, I wish the school success in completing the implementation of the SNRO accreditation. What we experience as a class is part of the growing pains of a new structure, and a new vision. We hope this is maintained and improved – and that the accreditation is maintained. The health insurers are discussing an initiative that all practitioners must have an HBO diploma. The school has proven that it can achieve the HBO-level and so, it is on the path to be ready for this change when it comes. Please continue this.
Lastly, I want to express my gratitude to all who made this achievement possible: the school's staff which patiently guided us in the new guidelines, the teachers for whom the change was also difficult and yet they did not distract from their teaching, my classmates which through sharing of insights and experience improved the general learning of everybody, to the staff of the pharmacy downstairs for allowing us to learn the herbs, and to the doctor's in the clinic.
Thank you all.
Ms. Teresa Pinto
Student at SOU of TCM
What is the first thing that comes to mind when thinking about the word "Western"? Exactly, cowboy films;). Well, we were not far from the truth when we enrolled in this subject for Toine provided us with plenty of scenes where he appears to be a most promising actor.
No(!), no guns, no bad guys, just him and his mum.
His mum in pilgrimage in Lourdes, his mum feeling dizzy, his mum with vertigo, his mum and her friend on holliday, his mum with a black eye,… his mum a bit everywhere;)
Sweet, very sweet!
Toine, you have the art of transforming a dry subject, a subject full of details, crazy extensive, though very interesting also at times very boring, into an agreable subject to learn and absorb. You definitely gave it a fun twist!
Not only the stories of your mum but also the cases of your own practice, your reader and the power points (which were made with care and know-how), and your 'acts'… It all was very enlightening and enjoyable.
We quite liked to see your power points interspersed with very funny cartoons. One that comes to mind is the rainbow unicorn ice cream maker advertising the squatty potty. Pooping will never be the same again;)).
We will never forget the difference between congenital and genetic anomalies after seeing you bumping your shoulder on the door frame (the door representing here the birth canal;) ). And we will see you sticking a pencil in a balloon when thinking of the double layer of the peritoneal cavity.
Let's also not forget the laughing meditations in the breaks, making everybody outside wondering what was going on;). But even more interesting, making some of them laughing too!
A few of your citations will stick with us:
The point of view depends on the glasses you are wearing
Viruses are stupid
Everything can be good or poisonous, the dose is making the difference
If you don't use it, you lose it!
Function defines shap
Men and women are the same but slightly different
We die from living
Also worth to mention is your methode to calm us down in order to start the lesson, or to call us back from an enthousiastic chit-chat break: with cymbals, Tibetan bells, a tambourin, a frog rasp instrument, you name it…
And then, almost at the end of the school year, we kind of bumped into Psychology. "Around the World in 20 Days" is nothing to compare! We did "Around the History of Pshycology in 3 single Days"!!;) Wow!
Amazing Peggy, how you managed to walk us through the whole thing in such a short time! With very clear power points, power points to the point, with clear images and framed sentences.
You didn't provide us with family insights, though we saw a very nice photo of you with your partner, on the screen;)
You presented us with cases from your own practice -nice setting there in Germany, by the way!-, cases that made us see clear what kind of symptoms could be associated with some states of mind and 'mental disorders'.
There is though one thing we didn't quite understand yet… the case of the girl that was afraid of dirty toilets…. Mmmm, we still have to go through that one!;)
Your experience in the field provided very useful insights and your classes were very easy- going and very clear.
And our class, the students among them(?), you will be wondering. Our class was great! We fit in together as a glove in spite of, and thanks to, our differences!
We had a kind of Harem, in Martina's words;), for Kim was the only male among us. But a Western harem, by all means, with strong opinionated females. We all had opinions, strong opinions;), about nearly everything! So strong that Toine and Peggy had to put and end on our discussions in order to proceed the lesson.
A class that left us with the taste for more encounters, and that is what we have been doing!
We are thankfull to Shenzou for having chosen the OBA for the most classes; nice rooms, nice coffee and tea, wonderful vue to the canal,… great, really! The future colleagues will profit from your renieuwd installations. Very well done, congratulations!
We are also thankfull for your choice of these two teachers for Western Medicine!
Our thanks go also to the coordinators; always doing their best to update us, all the paper work… the all year round!
Peggy and Toine, our gratitude and appretiation for your efforts and your dedication! A big thank you with a lot of love!
[Then the whole class says a big, loud THANK YOU to everybody, in unison]
2019 Graduates Shenzhou Open University of TCM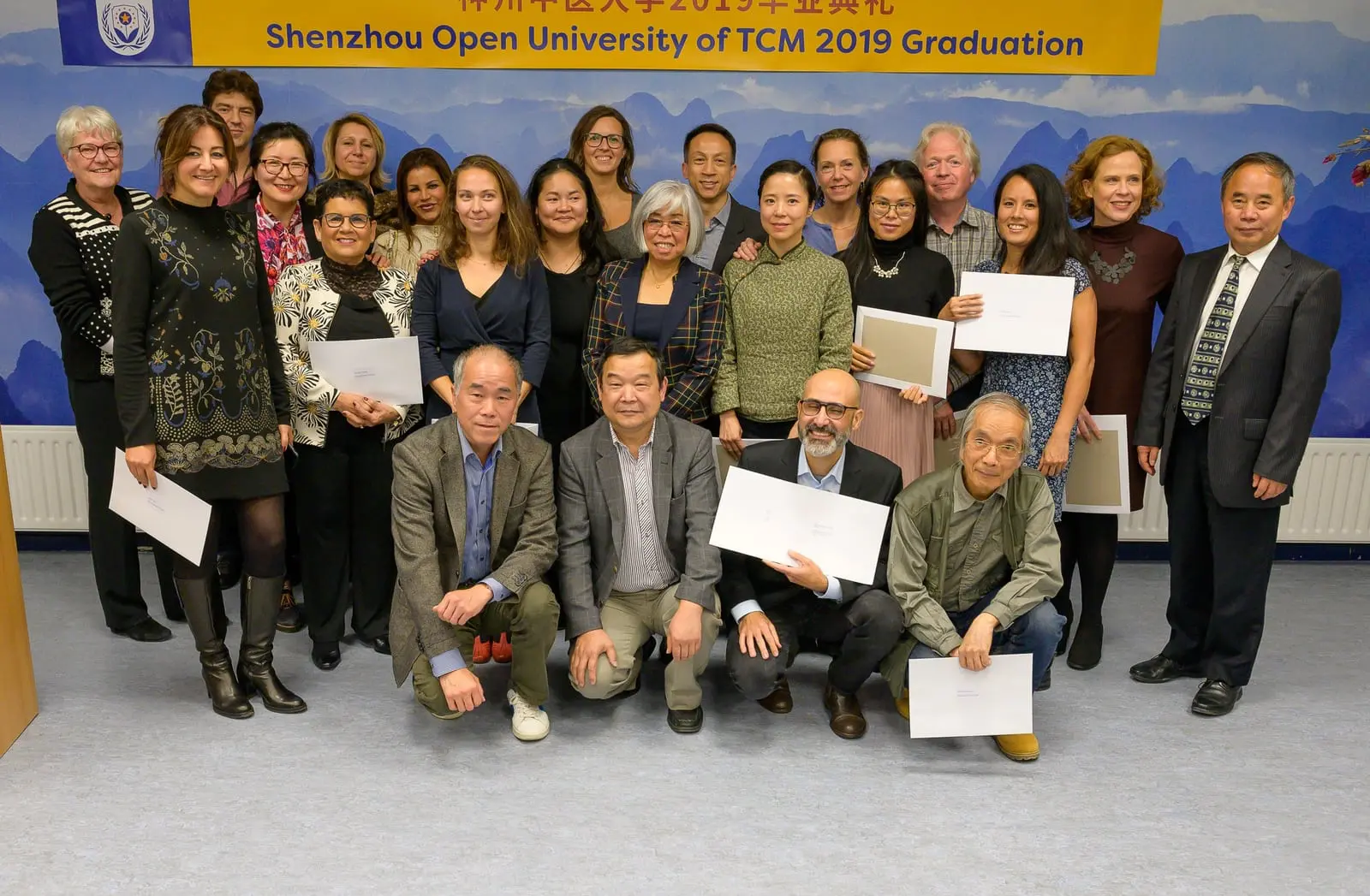 2019 Graduates of Acupuncture (in English language)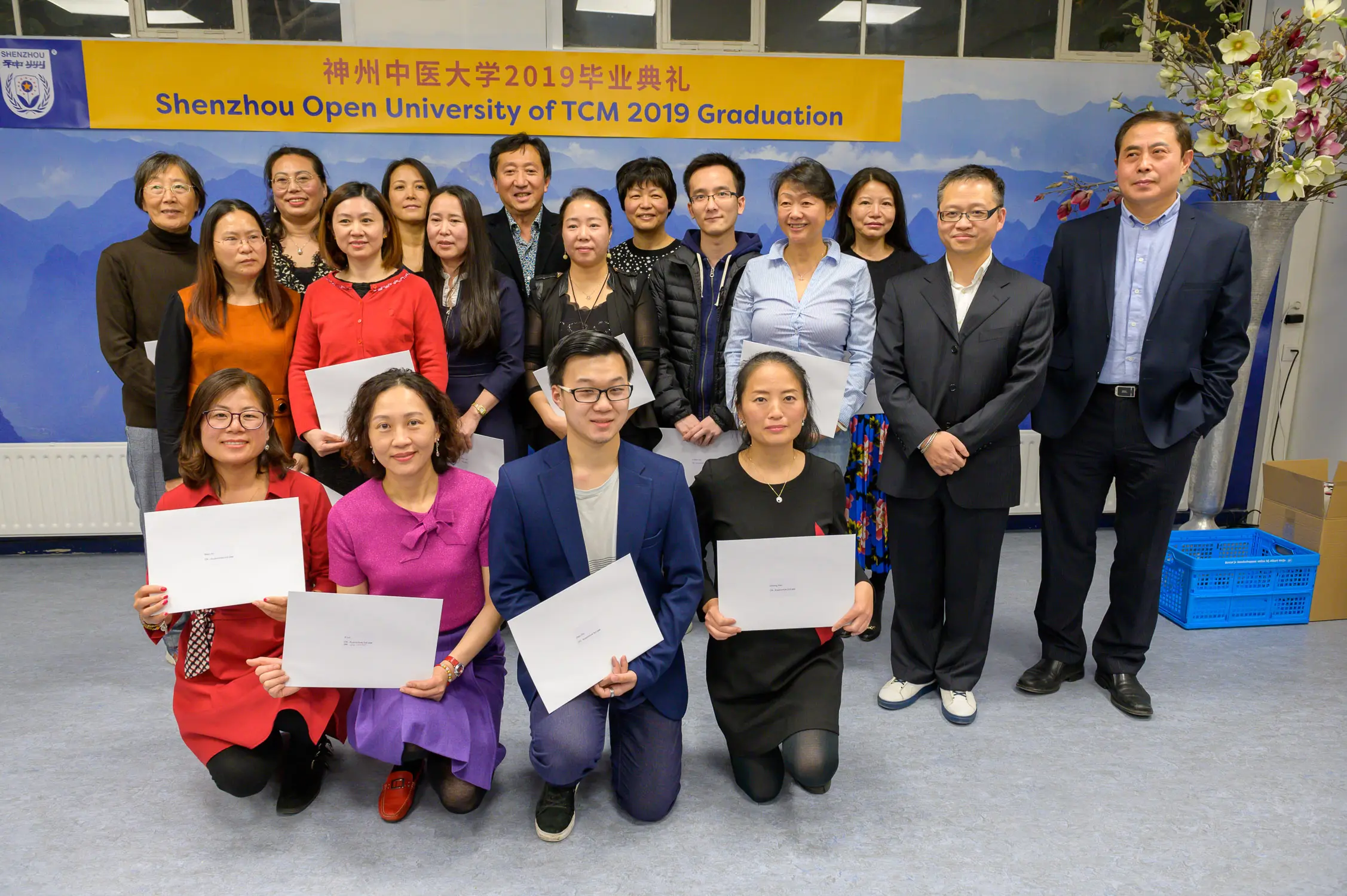 2019 Graduates of Acupuncture (in Chinese language)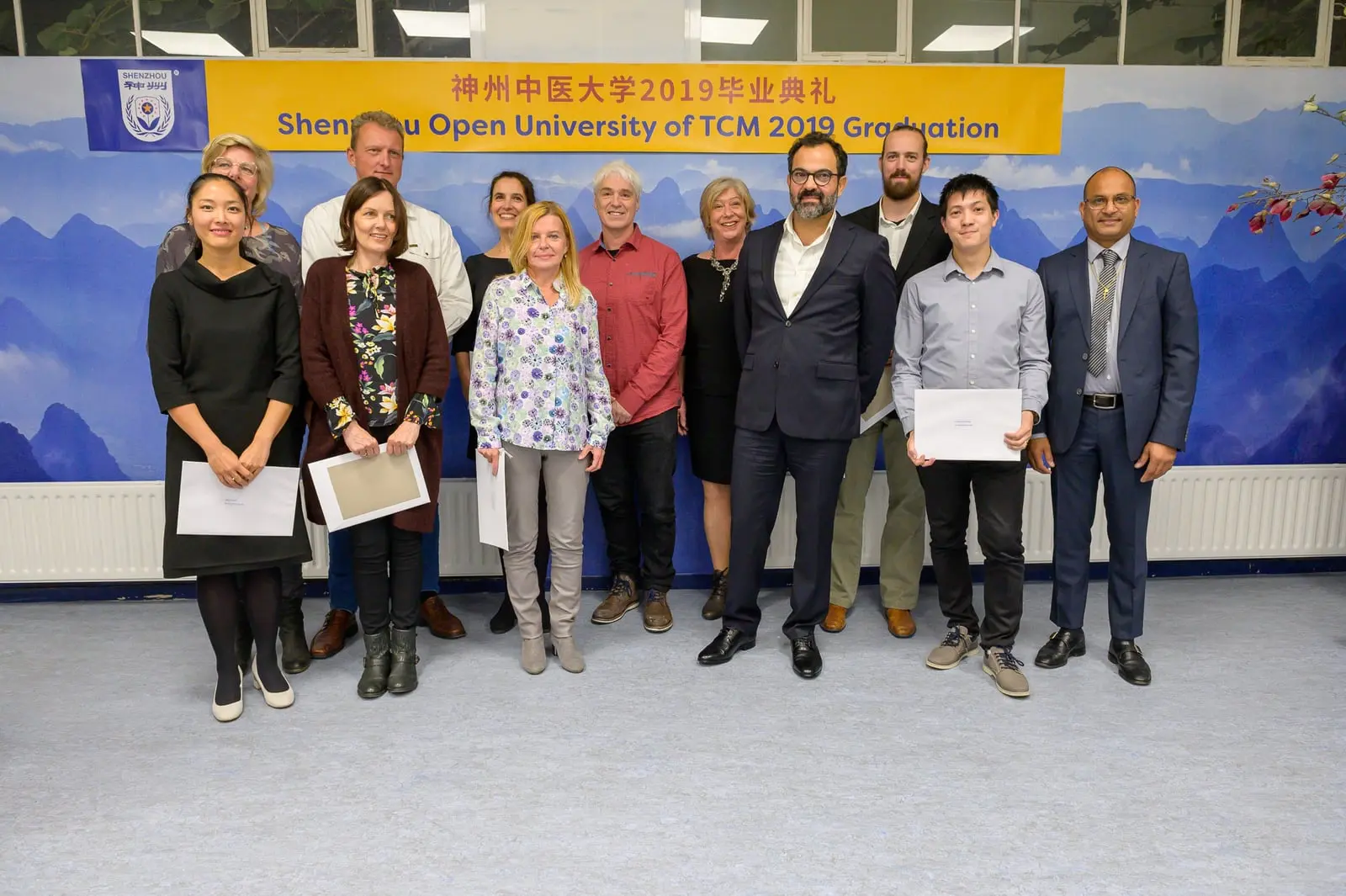 2019 Graduates of Acupuncture (in Dutch language)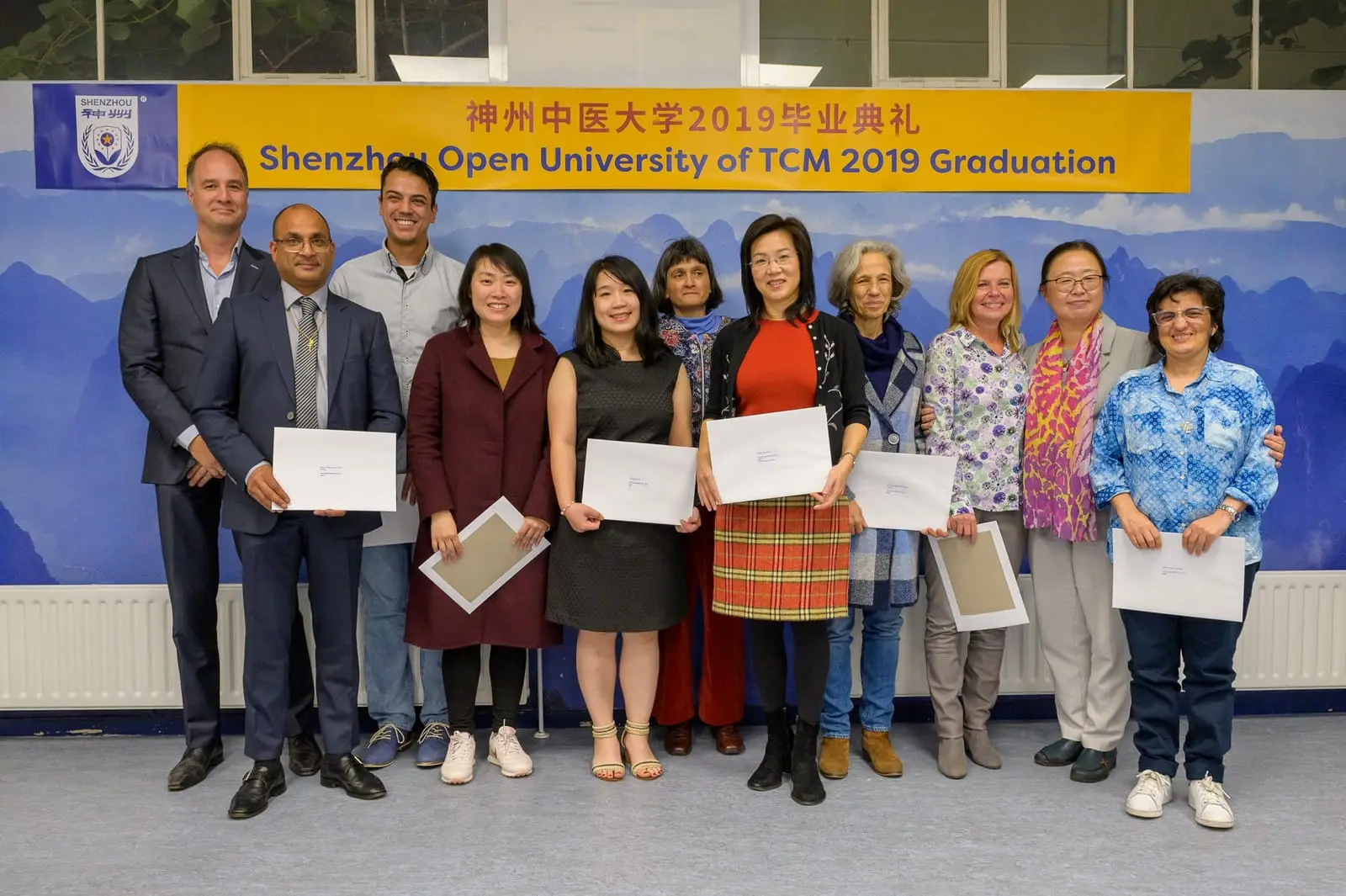 2019 Graduates of Chinese herbal medicine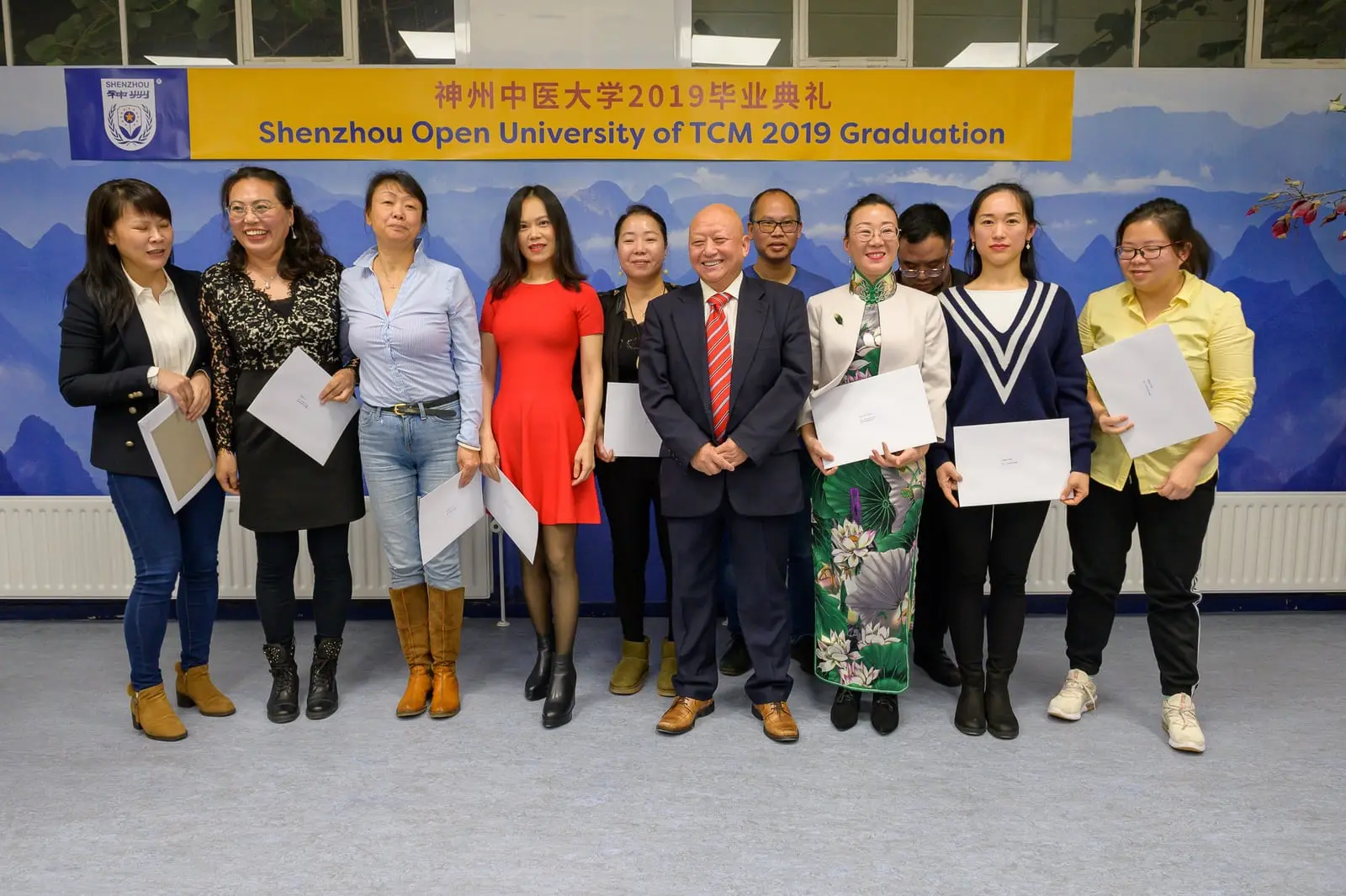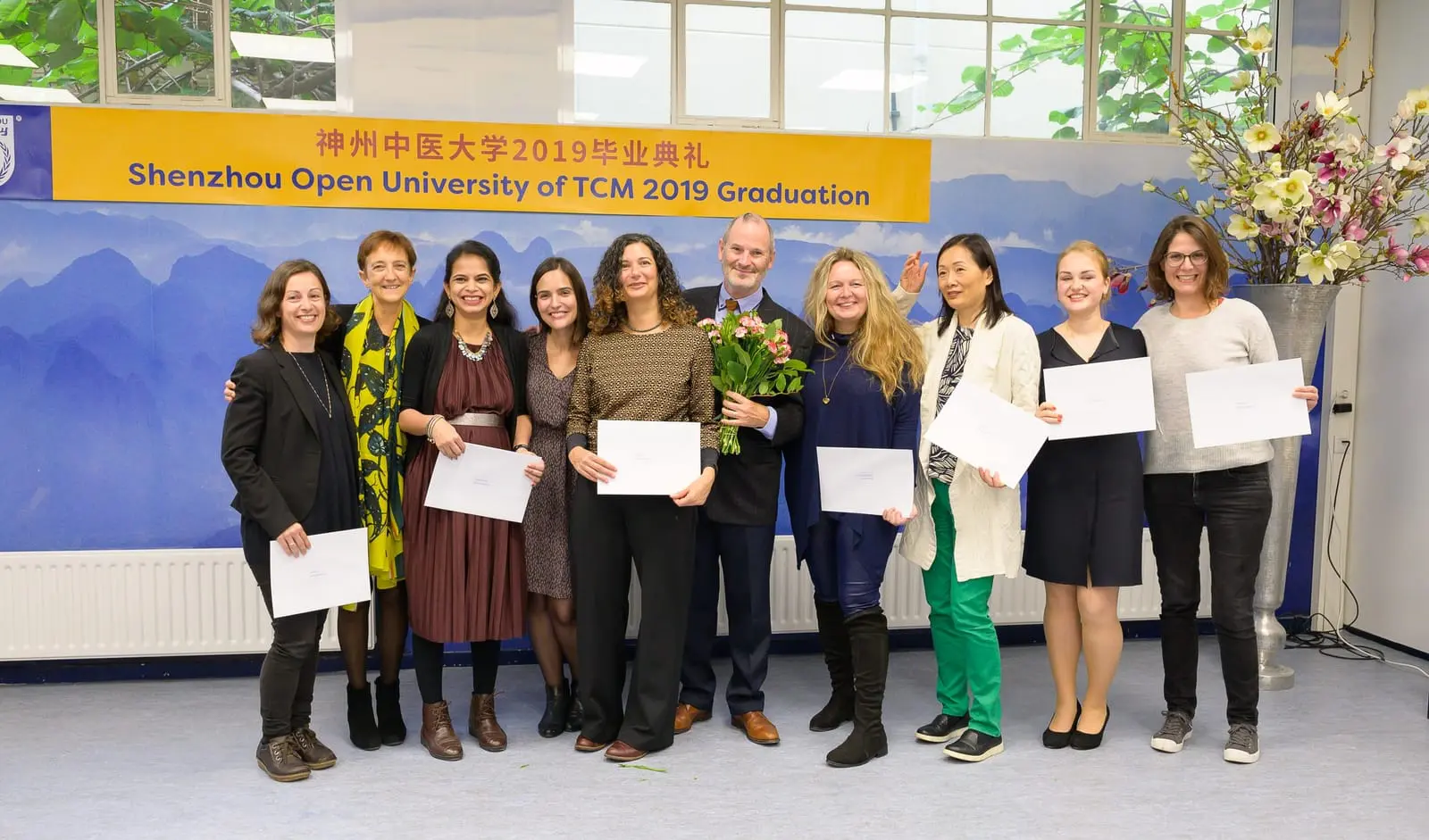 2019 Graduates of Western medicine foundations (in English language)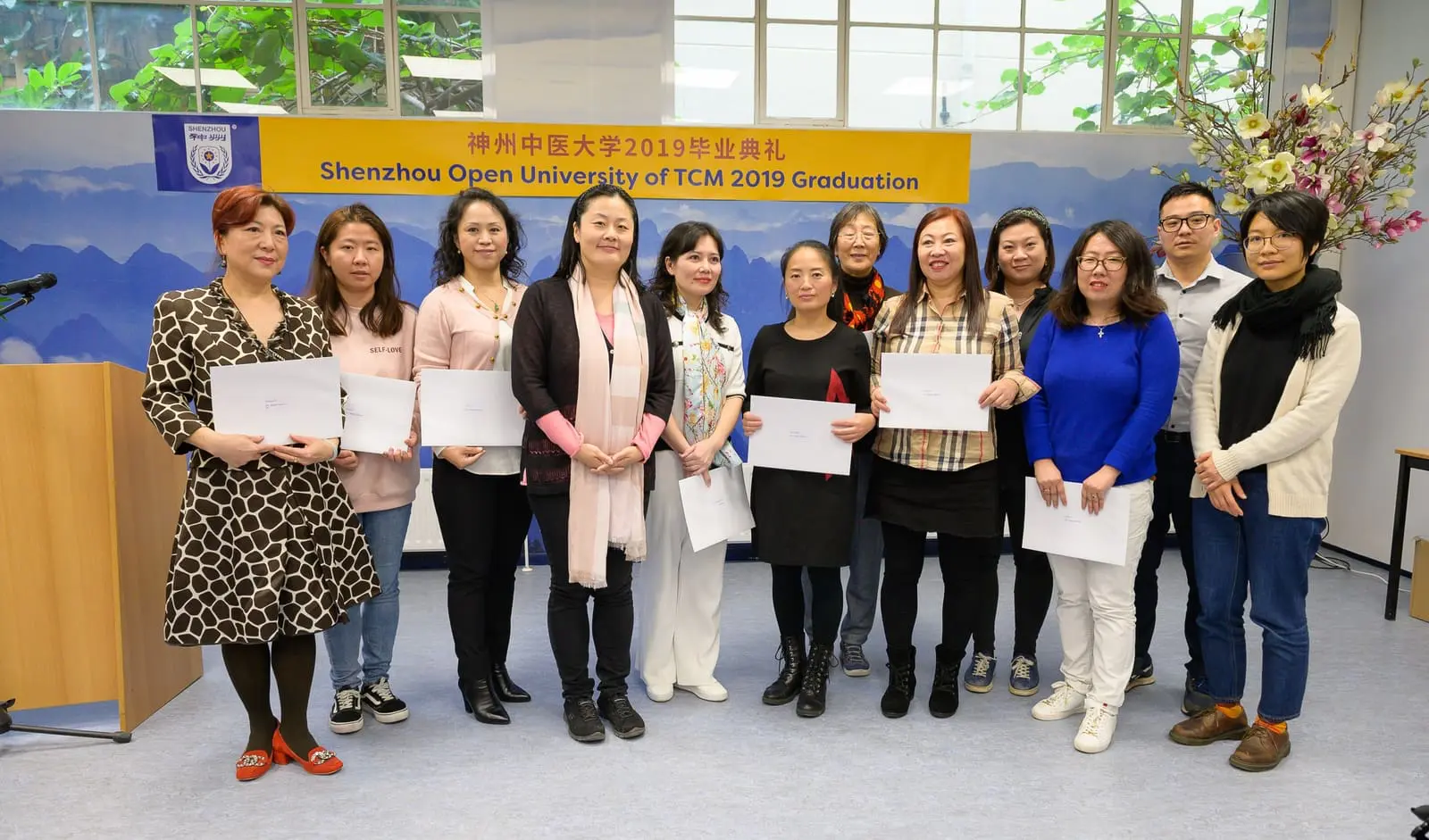 2019 Graduates of Western medicine foundations (in Chinese language)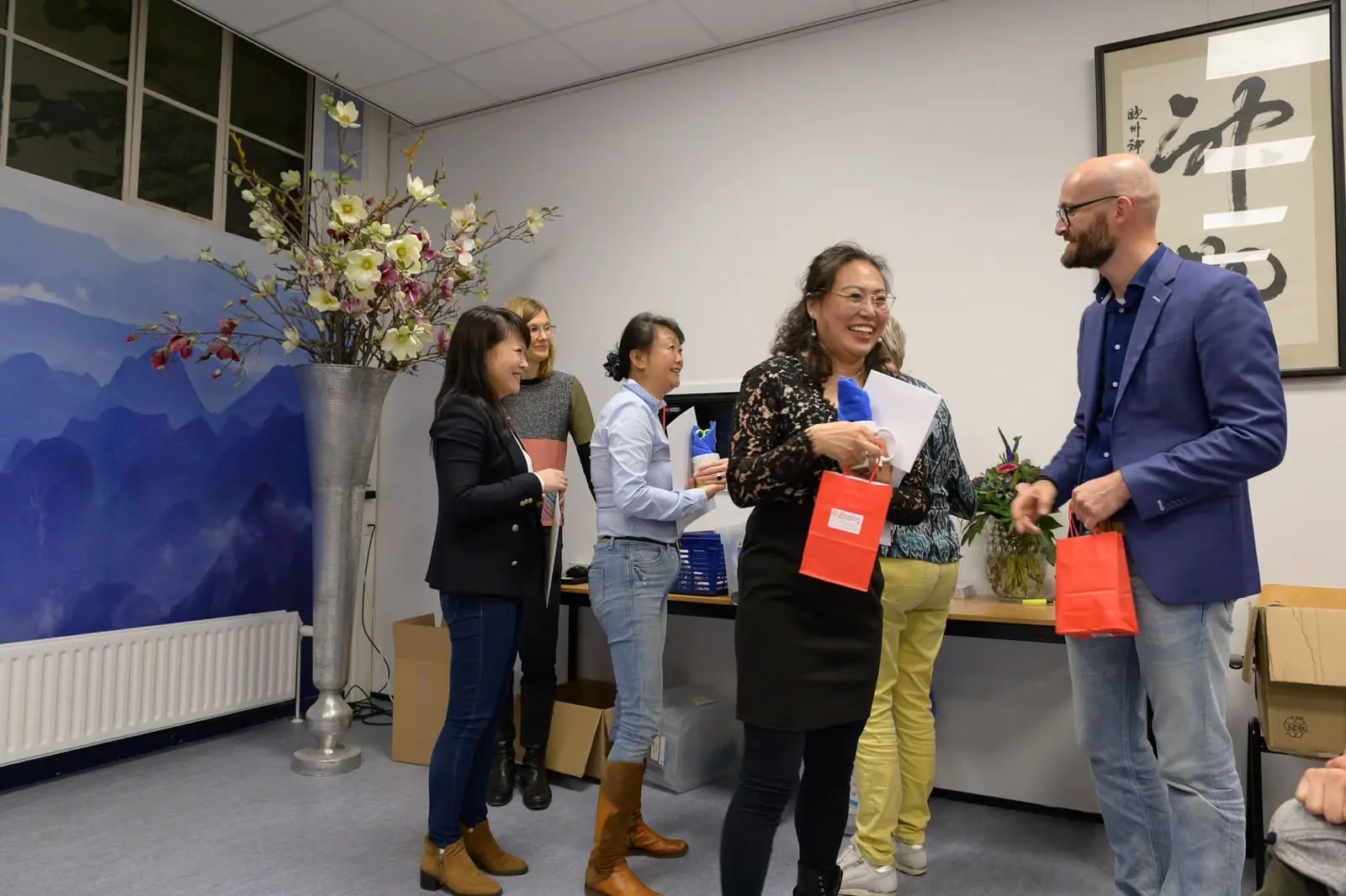 Students receiving presents from Dutch Association of Traditional Chinese Medicine
The annual teachers meeting
Zhilin Dong, SOU president, presiding over the annual teachers' meeting
Before the graduation ceremony, the annual teachers meeting was held for teachers to exchange experience, evaluate student feedback and propose measures to further improve teaching methods and results.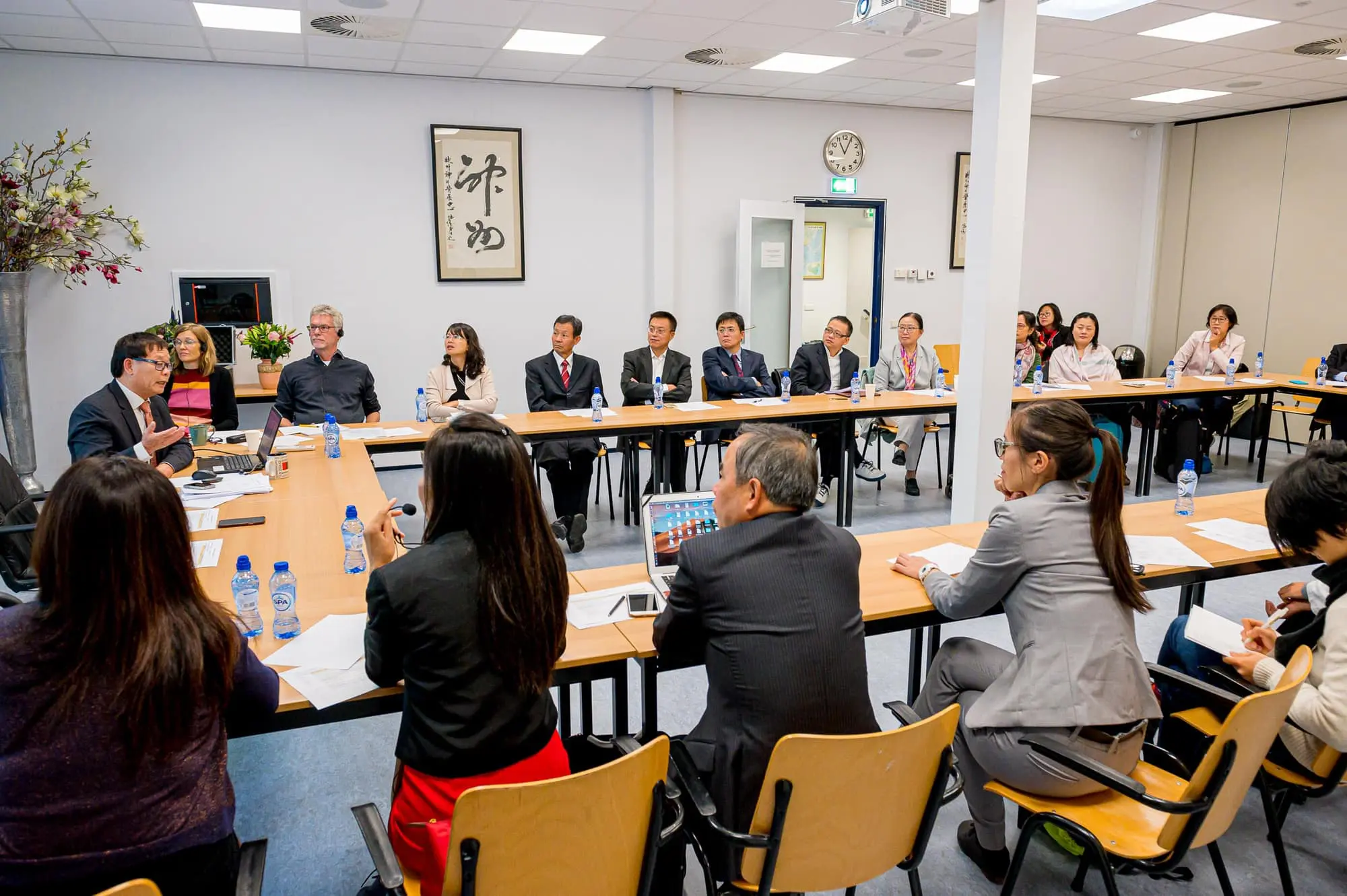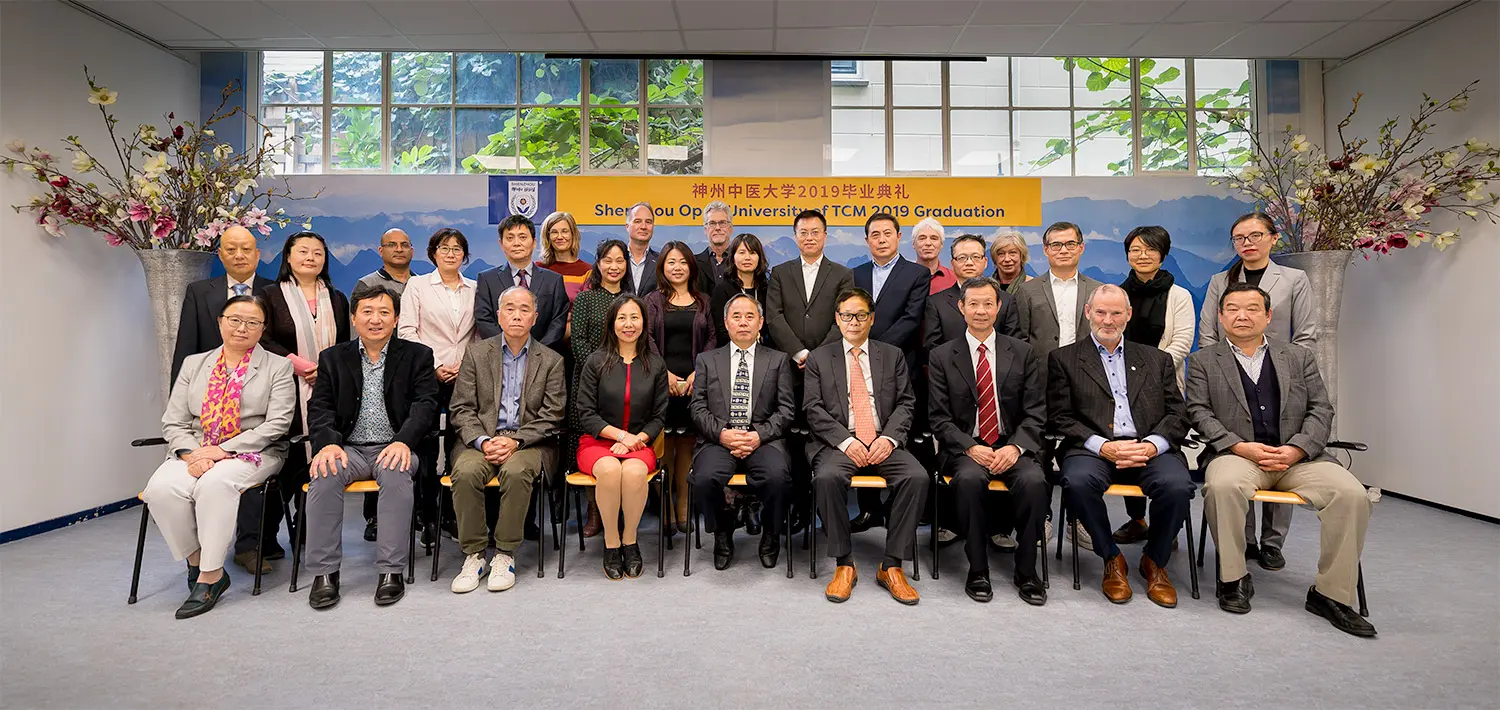 Meer informatie over SOU
Met meer dan 30 jaar onderwijservaring achter ons, hebben we een uitstekende reputatie in ons vakgebied opgebouwd, waar zowel de school als de alumni trots op mogen zijn
Docententeam en Stagebegeleiders