Accreditation

NVA WM, ZHONG cat. 2

Duration

Thursday from 10 am – 17 pm.

Dates
15 April 2021
Lecturer

Toine Korthout MD 

Address
Geldersekade 67, 1011 EK, Amsterdam
Price

€ 120,- including coffee/tea 

Student discount*:
Shenzhou student: 15%. 
External TCM student 5%
(Limited places available for students) *please see the payment and registration conditions for seminars in the registration form

Language
English
The course is suitable for the following levels of experience:

Therapists with valid MBK diploma

 
Seminar description:
Sooner or later, incidentally or frequently, therapists will meet in their contacts with patients circumstances where different options to act present themselves. In such cases it is often not a matter of choosing between just black and white, but merely between the one grey and the other. Arguments pro or contra can be put forward for any possible options. That what does justice to one principle might detract from the other, and likewise in reverse. Norms prescribe how to act, but different norms mat seen inconsistent towards each other. Nevertheless, choices must be made in given circumstances. Ethics may help you to make responsible choices. Medical ethics does so in cases related to patients and healthcare.
In this seminar we will explore ethics and participants will work together on practical issues preferably brought in from their own practice. Both generally applicable standards will be reviewed as well as personal ones. These can be sharpened or polished in mutual consultation; in any case they are brought to better awareness.
This seminar promises to be a playful and highly interactive training day. Items learned will be applicable in all kinds of situations in one's own practice.
Prior to the seminar, participants are asked to write down a few cases form their own practice in which they were confronted with more or less difficult ethical questions or considerations, and to bring them to the seminar.
About the lecturer: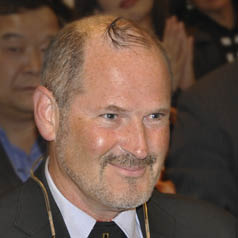 Toine Korthout MD is physician at Natuurlijkbeter Artsenpraktijk, specialized in ear acupuncture, and a senior teacher Western Medicine. He studied natural medicine at the Nederlandse Akademie voor Natuurgeneeskunde in Hilversum, medicine at Rijksuniversiteit Limburg in Maastricht (Msc 1988, MD 1991), acupuncture C at SNO Stichting NAAV Onderwijs with specialization auriculo (1996) and Pedagogisch-Didactische Bekwaamheid voor HBO-onderwijs alt Interstudie NDO (2013). He is a NRR-ERC certified instructor basic life support and padiatric basic life support. For manyyears he was teacher at SNO and its successor NAAV research and Edication Foundation for the topics auriculo and basic life support. Since 2008 he is teacher basic medical knowledge HVNA Opleidingen natuurgeneeskunde en klassieke homeopathie and since 2010 also at Shenzhou Open University of TCM. His lifely and activating lectures are highly appreciated by students.