Accreditation
NVA code A, ZHONG cat. 1, VNT, NWP, VBAG
Duration
Saturday and Sunday from 10 am – 17 pm.
Dates
7  and 8 September 2019
Lecturer
Dr. Wu Jidong
Address
Geldersekade 67, 1011 EK, Amsterdam
Price
€ 240,- including coffee/tea 
Student discount*:
Shenzhou student: 15%. 
External TCM student 5%
(Limited places available for students) *please see the payment and registration conditions for seminars in the registration form
Language
English 
The course is suitable for the following levels of experience:

TCM therapist
acupuncture student last year

The number of participants is limited: A maximum of 30 and a minimum of 20 participants are able to attend.
Seminar description:
Fu's Subcutaneous Needling ( FSN) is a new acupuncture technique developed by dr. Zhong-hua Fu in the 1990s. This acupuncture technique uses a modified acupuncture needle to stimulate areas near to trigger or Ashi points, so as to treat musculoskeletal and other conditions.
Traditional acupuncture techniques involve inserting fine needles into the skin, as well as subcutaneous and muscular tissues in order to stimulate certain points. the FSN technique only penetrates and stimulates the subcutaneous layer, and is therefore more beneficial to sensitive patients or those suffering from musculoskeletal conditions.  For some acute pain conditions such as muscular and ligaments strains, tennis elbow, or acute back pain, using the FSN technique can produce almost instant pain relief.
The FSN needle is a specially made disposable dry needle (picture 1), constisting of a solid stainless-steel needle and casting tube. The needle penetrates the skin and then for manipulation, whilst the casting tube can be retained in subcutaneous level for a longer period of time after solid needle removed. There is an applicator to delivery this specially made needle ( picture 2). The FSN technique mainly focuses on relieving Ashi points or Myofascial Trigger Points (MTrPs), which are commonly associated with pain. Conditions caused by acute sprain/injury such as tendon and ligament strain, neck and shoulder pain, back pain are particularly receptive to this kind of treatment. The FSN technique can also be used to treat tennis elbow, shoulder pain, neck pain, low back pain, sciatica, tendonitis, fibromyalgia, and trigeminal pain.
Contents of the seminar
– What is FSN?
– Structure of the FSN needle and applicator
– Clinical application of FSN
– How to use FSN
– Finding Trigger Points
– Needle insertion
– Manipulation
– Retention of needle
– Where to insert FSN
– How does FSN work (Ancient acupuncture techniques, Wrist-ankle acupuncture)
– What happened around subcutaneous areas (Scientific and biomedial explanation)
– Side effects and precaution
About the lecturer: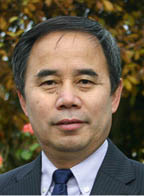 Dr. Jidong Wu graduated from Nanjing Medical School of Traditional Chinese Medicine in 1979, and practised Chinese medicine at the Nanjing General Hospital for four years. In 1986, dr. Wu completed his Master's Degree in medicine from the Shanghai University of TCM, before lecturing at the Nanjing University of TCM. The inventor of the FSN technique, Dr. Zhonghua Fu, was a pupil of Dr. Wu whilst he was studying at Nanjing University, and the two have known each other ever since. Dr. Wu immigrated to England in 1993, and is now Senior Lecturer at the Natural medicine Department in Middlesex University. He learnt the FSN technique in 2006 and has been using it in his practice in Cambridge with excellent results.
In this two-days seminar, Dr. Wu will introduce how FSN works and discuss its classical and scientific background. He will also demonstrate the FSN technique on patients, and conduct hands-on practice on how to use and manipulate the technique.