Accreditation
NVA code AT, ZHONG requested, VBAG, NWP
Duration
Wednesday and Thursday from 10 am – 17 pm.
Dates
27 and 28 February 2019
Lecturer
Dr. Chen Yunhe
Address
Geldersekade 67, 1011 EK, Amsterdam
Price
€ 400,- including coffee/tea 
Student discount*:
Shenzhou student: 15%. 
External TCM student 5%
(Limited places available for students) *please see the payment and registration conditions for seminars in the registration form
Language
Chinese with English interpreter
The course is suitable for the following levels of experience:

TCM therapist
acupuncture student last year

The number of participants is limited: A maximum of 30 and a minimum of 20 participants are able to attend.
Seminar description:
The relationship between Taisu medicine and ancient culture
 – the structure of the Taisu  medicine
–  the pulse diagnosis method of Taoist medicine
–  The five big universe models and their source
–  'The Yellow River Chart' (Hetu), 'the Inscription of the River Luo' (Luoshu) and astronomical observations
– The similarities and differences between Taisu medicine, TCM and modern medicine
How to use the Taisu pulse method to overcome the difficulty of TCM pulse diagnosis
– The history of inheritance of the Taisu pulse method and its relationship with the way of the celestials (Shenxian), the way of the powerful immortals (Fangxian) and shamanism.
– The understanding of the celestials (Shenxian) regarding the three immortals and seven mortal forms in Daoism (sanhunqipo); biological life; energy life.
– Introduction of the internal alchemy of Taisu medicine: Chungong and Jinggong
– The common medical diseases:….. such as rhinitis, nasal polyps, pharyngtis, pharyngeal edema, pneumonia, bronchitis, lung calcification, cardiac sleep points,gastritis, superficial gastritis, gastric ulcer, cholecystitis, bile reflux, regurgitation, biliary dryness, gallstones, gallbladder polyps, fatty liver, cirrhosis, cystitis, bladder polyps, kidney stones, hemorrhoids…
– How to prevent and eliminate diseases.
About the lecturer: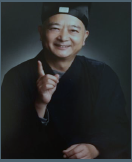 Doctor Chen is a Daoist priest from Sichuan province in China.
As a child he was determined to learn about the Dao and has looked everywhere in China for Daoist masters.
Through years of refining and practicing the Taisu pulse diagnosis with utmost concentration, he has become an expert in the Taisu pulse diagnosis, Daoist medicinal herbs, the Daoist Jiugong needle technique, the daoist internal alchemy and the Daoist culture.
Chen Yunhe is an expert in pulse diagnosis and is able to get an accurate diagnosis of his patients without them saying a word. This is also named 'manual CT scan'. Chen's pulse diagnosis skills have been highly praised by the Chinese as well by non-Chinese media. He has been invited by the Ministry of Culture in Europe and has participated in the Chinese Cultural Festival organized by the Ministry of Culture of China in order to promote Taoist medicine to the public.
He is, among others, the Deputy secretary general of the Chinese Association of Taoist Medicine.