Acupuncture treatment for intractable diseases in internal medicine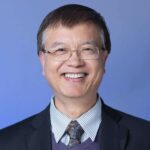 Guanhu Yang
Acupuncture treatment for intractable diseases in internal medicine (Fibromyogia, IBS, Meniere Syndrome,Diabetes, Myocardial infarction, and Allergic Rhinitis )
Lecture summary
Fibromyalgia
The primary symptoms of Fibromyalgia include chronical, widespread musculoskeletal pain and stiffness. Patients can also experience other symptoms such as sleep disorder, anxiety and fatigue.
There is no quick remedy to cure Fibromyalgia. However, Traditional Chinese Medicine including Acupuncture and Chinese Herbology has been shown effective in treating with the symptoms of Fibromyalgia based on research and clinical studies.
IBS
The main pathogenesis of IBS are liver spleen qi disharmony and impairment of transportation in the bowels. One should carefully find the cause based on different symptoms and treat both root and symptoms of the disease. Therefore, treatment for this disease is to smooth the liver, tonify the spleen and regulate the bowels and qi. Besides internal and external use of herbs, acupuncture and Tui Na are also effective. Dietary considerations along with control and psychological therapies are also important.
Ménière's syndrome
Ménière's syndrome is mainly caused by Wind, Fire, Phlegm and Deficiency, Deficiency in origin and Excess in superficiality. The affected region is the heart orifice, associated with the organs of liver, spleen, and kidney. Chinese herb and Acupuncture has been shown very effective in treating with this disease.
Diabetes
he etiology and pathogenesis of Diabetes are different and the clinical manifestations vary greatly. The main factors of this disease including diet, excise, emotional or sleep changes. Therefore, acupuncture treatment for this disease is not only to control blood sugar levels, also can help peripheral neuropathy
Exploration and Discovery of Acupuncture for Acute Myocardial Infarction
To introduce how to discover the phenomenon and apply it to acupuncture for MI base on animal research; To introduce the theoretical basis of abdominal acupuncture in the treatment of AMI in TCM; To enumerate the clinical cases of abdominal acupuncture in the treatment of cardiac diseases.
Moderate and Severe Persistent Allergic Rhinitis Treated with Acupoint Application Therapy of the Different Intensity: a Randomized Controlled Trial
This clinic study is focused on the application time. Patients with moderate to severe AR were tested for 2 hours and 6 hours respectively. Testing groups include the ginger patch for 2 hours, the honey patch for 2 hours, and the honey patch for 6 hours. The researchers observed the improvement of patients' symptoms and quality of life with different application time and intensity. Also will introduce animal research for similar model.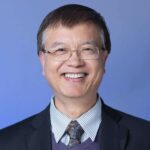 Guanhu Yang
Dr. Guanhu Yang graduated from Zhejiang College of Traditional Chinese Medicine (MD) and Nanjing College of Traditional Chinese Medicine (MS), and served as Assistant Professor and Full Professor at Wenzhou Medical University. In 1993, Guanhu joined the staff of Toyama Medical and Pharmaceutical University in Japan, and from there he went to Kanazawa Medical University for his Ph.D. study in lung repair. After completion of his Ph.D., Dr. Yang continued his research in pulmonary biology at Cincinnati Children's Hospital as a postdoc and then research scientist.
During his Ph.D study, Dr. Yang opened the first-ever out-patient acupuncture clinic in Fujinoki hospital and Sakurai hospital ( 6 years) in Toyama, Japan. Since 2005, Dr. Yang has been running two acupuncture clinics in Ohio, USA. He is currently a Clinical Assistant Professor (honored/endowed) at Ohio University, and Chair Professor of the US-China Joint Institute for Acupuncture & Rehabilitation Medicine at Wenzhou Medical University. Dr. Yang also served as director for the SHI acupuncture school, vice president at American TCM Association a few years ago, and supervised the doctoral program at American Academy of Acupuncture & Oriental Medicine and other 10 medical universities in the World. During his career, Dr.Yang published 10 books and over 70 research articles (Clinical Research & Application of Acupuncture & Tuina etc) on basic biology and traditional Chinese medicine, and worked as editor and reviewer for numerous renowned SCI journals. such as Cellular & Molecular Biology and an editorial board member of China Acupuncture and Moxibustion. Dr. Yang also is associate Editor for the International Journal of Clinical Acupuncture. He also is Vice president of the World Federation of Chinese Medicine digestion Committee.
Shenzhou student: 15%
External TCM student 5%
(Limited places available for students)
Please see the payment and registration conditions for seminars in the registration form.
Accreditation
NVA AT. ZHONG requested. VBAG. NWP. LVNT.
Dates & Time
14 & 15 May 2022
10 am – 17 pm (1 hour break)
Location
Shenzhou Open University of TCM
Geldersekade 67, 1011 EK Amsterdam
Levels of experience
Acupuncturist, or final year student
Number of participants
The number of participants is limited: A minimum of 15 participants are able to attend.