Accreditation

NVA WM, ZHONG cat. 2, CGO, NWP, VNT

Duration

Thursday from 10 am – 17 pm.

Dates
30st of January 2020
Lecturer

Toine Korthoud MD 

Address
Geldersekade 67, 1011 EK, Amsterdam
Price

€ 120,- including coffee/tea 

Student discount*:
Shenzhou student: 15%. 
External TCM student 5%
(Limited places available for students) *please see the payment and registration conditions for seminars in the registration form

Language
English
The course is suitable for the following levels of experience:

Therapists with valid MBK diploma

The number of participants is limited: A maximum of 30 and a minimum of 15 participants are able to attend.
Seminar description:
By now most non-BIG-registered therapists in the Netherlands will have gained or updated their certificate on Western medicine. Knowledge of Western medicine is important to distinguish cases you can handle by yourself from so called red flags. Red flags are cases that need referral to a physician. It is not only in the anamnesis (the medical interview on complaints) where red flags might get clear. Also in physical examination red flags may be found.
In this lifely and practical one day's course the basic elements of physical examination will be explained. The teacher will demonstrate a range of important elements of physical examination that can easily be performed by therapists. Participants will also get opportunity to a teacher guided practice during the course.
About the lecturer: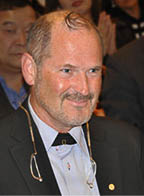 Toine Korthout MD is physician at Natuurlijkbeter Artsenpraktijk, specialized in ear acupuncture, and a senior teacher Western Medicine. He studied natural medicine at the Nederlandse Akademie voor Natuurgeneeskunde in Hilversum, medicine at Rijksuniversiteit Limburg in Maastricht (Msc 1988, MD 1991), acupuncture C at SNO Stichting NAAV Onderwijs with specialization auriculo (1996) and Pedagogisch-Didactische Bekwaamheid voor HBO-onderwijs alt Interstudie NDO (2013). He is a NRR-ERC certified instructor basic life support and padiatric basic life support. For manyyears he was teacher at SNO and its successor NAAV research and Edication Foundation for the topics auriculo and basic life support. Since 2008 he is teacher basic medical knowledge HVNA Opleidingen natuurgeneeskunde en klassieke homeopathie and since 2010 also at Shenzhou Open University of TCM. His lifely and activating lectures are highly appreciated by students.